Hello, this is the Freeshell / SDF Web Page of Supratim Sanyal.
SANYALnet Labs
That is just a name I have given my disorganized bunch of computers and electronics hobby projects; it is nebulous and does not really mean anything. Equivalent to "junk in the basement."
DECnet - MAC address - SCSSYSTEMID Calculator
Here is a DECnet administrator's tool in javascript: DECnet - MAC address - SCSSYSTEMID Calculator »
SANYALnet Labs Network Diagram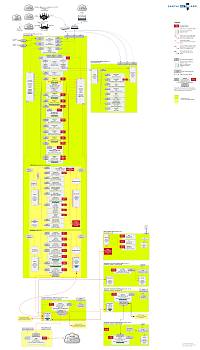 A snapshot of the ways my various hobbyist computers and servers are connected »
Nodes
IMPVAX - SIMH VAX VAXserver 3900, OpenVMS 7.3 Operating System, DECnet Phase IV Area Router
OSU HTTPD Web Server: http://impvax.duckdns.org/
IMPVAX is a DECnet Phase IV Area Router serving as the United States East gateway to HECnet - the hobbyist DECnet network. It is also the Routing Node for all Digital and non-Digital systems communicating over DECnet at SANYALnet Labs. It runs Process Software's MULTINET to communicate with other DECnet nodes and uplink to HECnet. It additionally uses a VDE (Virtual Distributed Ethernet) switch to communicate with rest of the DECnet nodes in my home.
IMPVAX runs in the cloud inside an Amazon AWS EC2 instance running Ubuntu 14 at sanyalnet-awsec2-1.now-dns.org.
Accounts for HECnet members on request.


SUN 3 NetBSD 1.6 Operating System (NetBSD/Sun3 Amnesiac)
This is a virtual emulated SUN 3 workstation running NetBSD/Sun3 Amnesiac 1.6, running under the TME (The Machine Emulator) hypervisor. I am grateful to Mark Abene who pointed me to this great little emulator and instructions on how to install NetBSD on a SUN 3 at the HECnet mailing list.


NetBSD VAX
A SIMH-emulated MicroVAX 3900 running NetBSD/VAX 8 operating system. This is the only SIMH for Win-32 instance running under Windows; all other SIMH instances in SANYALnet Labs run on Linux variations.
Web Server: http://sanyal.duckdns.org:92/


SanyalCraft Minecraft Server
Free Public NTP stratum-2 time servers participating in the NTP Pool Project
These NTP time servers can be used in "server" configuration lines in your ntp.conf. They are stratum-2 clock sources:

Free Public Ad+Malware+Ransomware Blocking Recursive DNS Servers
sanyalnet-cloud-vps.freeddns.org
sanyalnet-cloudvps2.freeddns.org


Free Public Malware, Trojan, Botnet, C&C etc. Blocklists

These blocklists can be used on your internet gateway routers and security firewalls. I use them with pfBlockerNG running on my pfSense virtual router/firewall/home internet security gateway.


WBRi Radio Stream
I used to run Washington Bangla Radio on Internet (WBRi) and an associated south-Asian entertainment news portal that reached alexa rank of under 14K at it's peak, making it more popular than many mainstream newspapers in India. Along the way I became an expert in streaming technologies, SEO, video and audio editing and production, photography and image manipulation, LAMP-based high-performance web servers and internals of the Drupal CMS, as well as the Zencart online shopping application which I modified for digital audio sales and downloads way before iTunes became popular. The service still exists and is run by a buddy now.


Anonymous FTP (retro-computing stuff)
My website
SANYALnet Labs System Monitor: Latest Notification Events
Contact
Updated: 12-MAR-2019
© Supratim Sanyal
Font © 1982 Sinclair Research Ltd
---
Hosting for this site is provided by

The SDF Public Access UNIX System