Hello, this is the Freeshell / SDF Web Page of Supratim Sanyal.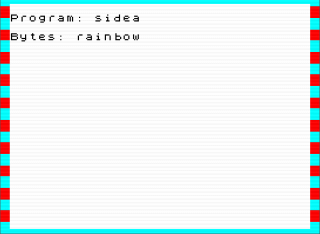 My Servers
General Stuff
I am a M4'67 & R-L657 haplogroup Kanyakubja Bengali Brahmin of Sage Vatsa clan, great fan of Rock'n'Roll, steak and beer. I read what most would say is "classic sci-fi" and watch sci-fi movies and World-War II documentaries on Netflix and similar streaming video services (we do not have cable or satellite TV in the house from 2005 when we went all-streaming). I started my professional career many moons ago with Digital Equipment Corporation, subsequently worked with Hughes Network Systems and currently work with Xerox Corporation.
Programming from age 13 starting on a Sinclair ZX Spectrum in BASIC and Zilog Z80 assembly, I am a general computing enthusiast always playing around with hobby electronics and computing projects, machines and networks, very loosely called SANYALnet which is far more nebulous a concept than SKYnet or DECnet. I am contributing enthusiastically to SETI@HOME and ATLAS@HOME from their inception, and dream of first contact with aliens and a breakthrough is cosmology uniting gravity with the other fundamental forces in my lifetime. Some of the SANYALnet systems and programs are:
QCOCAL: SIMH VAXserver 3900 running OpenVMS VAX 7.3. You can telnet to her at sanyalnet-openvms-vax.freeddns.org and login as guest with the password in SYS$ANNOUNCE to play some games, explore some MUDs or other Digital Equipment Corporation (DEC) systems. She is connected and talks to her friends in the language of DECnet over the global HECnet hobbyist network, and also runs WASD web-server, delivering web contents from http://sanyalnet-openvms-vax.freeddns.org:82/.
CLOUDY: SIMH VAX-11/780 running OpenVMS VAX 7.3. You can reach CLOUDY over DECnet from the guest account at QCOCAL and use the same guest credentials to relive your DCL fantasies.
JUICHI: Literally meaning "eleven", JUICHI is a SIMH PDP-11/24 running RSX-11M-PLUS. She is also reachable over DECnet from QCOCAL and I have retained the famed "USER" account that provided an introduction to pioneering multi-user interactive computing to an entire generation.
ANUBIS-SOLARIS: Anubis is a OpenIndiana server. OpenIndiana is a community-driven Sun Solaris 11 compatible Illumos distribution that brings in all the excitement and legacy of Solaris. You can reach him by ssh to sanyal.duckdns.org - but I usually keep the guest account disabled due to abuse. He also runs a web-server, mainly containing OpenVMS and Solaris freeware and retro-computing artefacts, from http://sanyal.duckdns.org:81/. Anubis also hosts a public FTP server that I enable sometimes when the need arises.
SANYALcraft MINECRAFT Server: I maintain SANYALcraft (Enjin site) with my son. Many players seem to like it and have built an impressive world. Join our world using your Minecraft client at the standard Minecraft port number (25565) at sanyal.duckdns.org. SANYALcraft started off in 2012 as vanilla, was a craftbukkit server next and is currently running spigot with all sorts of fun plugins. We are experimenting with a cauldron server and may swap it in any-time with server-side mods in addition to plugins.
Free Public NTP Servers: My public NTP servers listed at ntp.org serve time from sanyalnet-cloud-vps.freeddns.org and sanyalnet-cloud-vps2.freeddns.org.
Free Public ad-blocking, malware-blocking and ransomware-blocking DNS: I maintain DNS servers that block internet advertising and suppress web services that record personal browsing patterns as well as malware and ransomware web-sites at sanyalnet-cloud-vps.freeddns.org and sanyalnet-cloud-vps2.freeddns.org. I use them myself and you are welcome to do so as well. If you need the corresponding IP addresses, you can look them up using a service like this.
Virtual Private Servers: I play around with multiple VPSs trying out various things. Two of them are here and here.
Blog: Never good at documenting anything, I recently started to try to write down some of the more interesting things I discover in my blog Supratim Sanyal's Computing Blog | Wandering Digital Wastelands as a Geek. Subscribe.
Website: My personal website, created with the VAX VMS TPU Editor in the mid 1990s, was hosted for free (perhaps at fortunecity). Eventually I moved to Unix and vi, and wrote a bunch of programs to manipulate multiple hmtl files based on a template - my own command-line multi-page web-site editor! I bought the domain sanyal.org in 2000 and have tried to maintain subdomains for the family members, with my own subdomain still pretty much vi-edited and script-manipulated html files. This website is not updated any longer - maybe my children will take it over some day, maybe not.
WBRi (Washington Bangla Radio on internet): This consumed many years of my time and was essentially an experiment in the brand-new commercial internet. Driven by a shoutcast audio stream and a web-site with popular South-Asian entertainment news, I managed to make it reach Alexa rankings better than leading newspapers in India for a while. I had fun learning many new things and technologies - drupal, php, mysql, zencart, selling digital downloads, SEO, audio editing, video editing, team leadership, management, finance, content licensing, taxes and more. I transfered ownership of WBRi to another organization in mid-2016.
You can reach me over VMS MAIL at QCOCAL::SANYAL via HECnet, or if you strangely prefer internet email, from the form at http://mcaf.ee/sdlg9f.
Updated: Nov 28, 2016.
© Supratim Sanyal
Font © 1982 Sinclair Research Ltd
---
Hosting for this site is provided by

The SDF Public Access UNIX System